Case launches in Argentina under 'universal jurisdiction' demanding justice over 'existential threat' to minority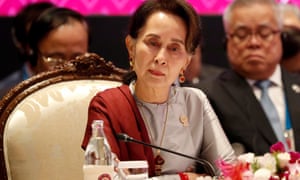 Aung San Suu Kyi
is among several top Myanmar officials named in a case filed in Argentina for crimes against Rohingya Muslims, the first time the Nobel Laureate has been legally targeted over the crisis.
Rohingya and Latin American human rights groups submitted the lawsuit in
Argentina
on Wednesday under the principle of "universal jurisdiction," a legal concept enshrined in many countries' laws.
The premise is that some acts – including war crimes and crimes against humanity – are so horrific they are not specific to one nation and can be tried anywhere.
https://www.theguardian.com/world/2019/nov/14/myanmars-aung-san-suu-kyi-faces-first-legal-action-over-rohingya-crisis?fbclid=IwAR0X1Gn9jqN4CttNPfA4pnrGBteEN7OfbhUS0RIqsfEEiBo_NPcvdWbc1Ug
Gambia files Rohingya genocide case against Myanmar at UN court
Application seeks punishment for culprits, compensation for victims and end to attacks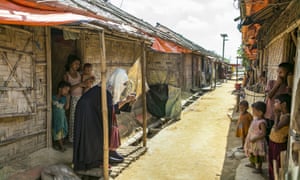 Myanmar is to face accusations of genocide at the UN's highest court over its treatment of
Rohingya
Muslims.
A 46-page application has been submitted to the international court of justice by the Gambia, alleging
Myanmar
has carried out mass murder, rape and destruction of communities in Rakhine state.
If the ICJ takes up the case, it will be the first time the court in The Hague has investigated genocide claims on its own without relying on the findings of other tribunals, such as the international criminal tribunal for the
former Yugoslavia
, which it consulted for claims against Serbia and Croatia.
Under the rules of the ICJ, the application argues, member states can bring actions against other member states over disputes alleging breaches of international law – in this case the
1948 convention
on the prevention and punishment of the crime of genocide.
The Gambia
, a member of the Organisation of Islamic Cooperation, has taken the legal lead in drafting the claim against Myanmar. It is being supported by other Muslim states. An initial hearing is expected at the ICJ in December.
In the application, the vice-president of the Gambia, Isatou Touray, describes her state as "a small country with a big voice on matters of human rights on the continent and beyond".
In October 2016, Myanmar's military began what it described as "clearance operations" against the Rohingya, according to the submission. "The genocidal acts committed during these operations were intended to destroy the Rohingya as a group … by the use of mass murder, rape and other forms of sexual violence, as well as the systematic destruction by fire of their villages, often with inhabitants locked inside burning houses," it says.
A "pervasive campaign of dehumanisation" had preceded the attacks, including demands from the local Rakhine Nationalities Development party for a "final solution" to deal with the Rohingya, the application notes.
https://www.theguardian.com/world/2019/nov/11/gambia-rohingya-genocide-myanmar-un-court